Sex isn't just about procreation for humans, and we actually enjoy sex tremendously. That's one thing that helps set us apart from other animal species, and as a result it's important that couples take time to ensure they get maximum satisfaction from their sexual encounters. For some, losing a penis erection in the middle of sex is a major issue and something that is important to overcome.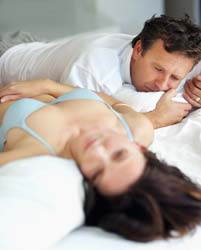 Losing a penis erection during sexual intercourse is technically classified as a type of erectile dysfunction, and can be incredibly frustrating for both partners involved. Millions are spent on sex toys, male enhancement products, supplements, prescription medication, and other products designed to help with this issue each year, and some male enhancement products are simply better than others. But before you start working to overcome your issue, the first step is to actually spend a few minutes figuring out what the potential causes of it are.
Disinterest – Like it or not, one of the most likely causes of losing an erection during sex is simply that you're not interested in intercourse. This could be partner specific or just in general. Either way, consider just how into it you really are.
Stress – External stress is another big one worth looking at. Things like work related stress, money worries, or anything else may be weighing to heavy on your shoulders for you to really focus on the task at hand.
Fatigue – If you're not resting properly, you may not be able to maintain a penis erection. Whether it's insomnia or just a case of being run down, fatigue will impact your performance significantly.
Health Issues – Things like poor blood circulation, infection, and more could also have an impact on your erections. You may need to visit a physician to determine what the specific problem is in order to overcome it.
Relationship Problems – Unspoken problems with your relationship could be to blame as well. This is different than disinterest in that it may relate to issues that don't have anything to do with sex but are related to other aspects of your life.
Once you pinpoint the specific issues that could be causing you to lose your erection, you can go about overcoming the issue. Things like male enhancement products, counseling, and even adding something to sex to spice things up could help you get back the strong, hard, impressive erections that you thought would never return.